Here's a selection of recent feedback from some of our students.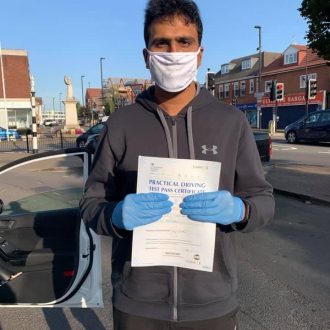 Mr Olu has helped me to clear the driving test in the first attempt. Me being an experienced driver outside UK had the problem of missing out some of the aspects which are expected on UK roads. I had to change my driving behavior and Mr Olu had constantly stayed on top to highlight the common places I went wrong. He was also professional to accommodate my test plan in a short notice. The refresher classes I had with him greatly helped me and I frankly followed his feedback more than the information available on web/youtube. I was able to clear my test with only 2 minor faults in the first attempt. All thanks to Mr Olu and I would strongly recommend him to any new/experienced drivers.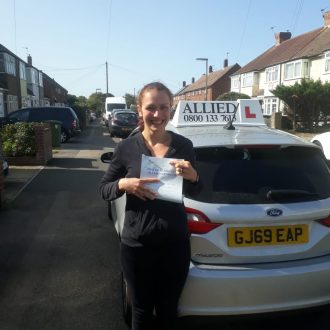 I just passed my test on the first try. There are no words to describe how grateful I am. Thanks to Ricky I now have my freedom. Ricky is the best teacher I could ever have. His methods are brilliant and his friendly attitude makes learning to drive a pleasure. And as Ricky always says "Trust the training ".
Mr Olu is an amazing driving instructor. He taught me driving from scratch. His instructions are very clear. His patience level is too high. And I cleared my test in my first attempt. Will recommend him for my friends.
Olu you are an amazing instructor Thank you so much for helping me to pass first time!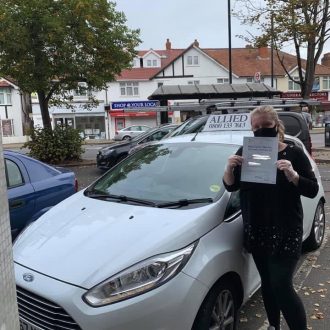 Just passed my test first time with the amazing OLU. From the first day I started my driving lessons, I have felt safe, secure and learnt everything from the get go. Olu is very thorough and will cover all the topics and routes in a disciplined fun environment. I've had many instructors but never one this fantastic. Olu doesn't waste your time and you will feel like an experienced confident driver by the time you book your test! Thank you so much OLU!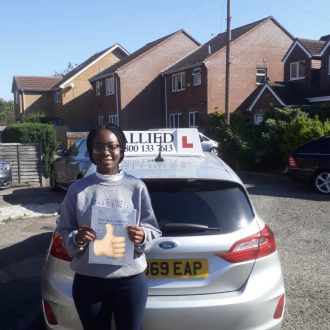 It was a pleasure having Ricky as my driving instructor. I would highly recommend his services as not only he was very supportive and friendly, his lessons were also well-structured and informative which enabled me to progress quickly and pass my test first time.
Will recommend the company with a 5 star rating all thanks to my very professional instructor Mr Olu Adetola I passed my practical exam in my first try ????.
Olu was amazing. A great guy with some absolute great insight. Not many teachers could have dealt with my strong personality, but like the saint that he is he made everything click. He is a great guy who with his methods made the test seem so simple. In him I have found a life long friend. Thank you buddy……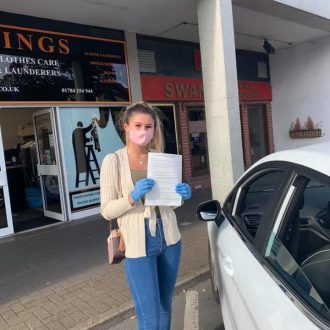 My instructor was Olu. He always pushed me to my best ability and not only helped to build up my confidence but also helped me get past my challenges with driving!

I highly recommend Olu, he is an instructor who generally wants you to do well, pass and be a confident driver especially when putting the hard work in. Overall I cant thank him enough as he helped me all the way through til my test today which I pass with only 2 minors.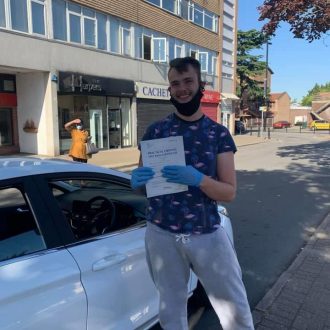 I would just like to thank Olu for getting my son jack through his first driving test on the 7.8.20, allied driving school was the perfect choice for our son, and we would highly recommend them to everyone, Olu TOP MAN.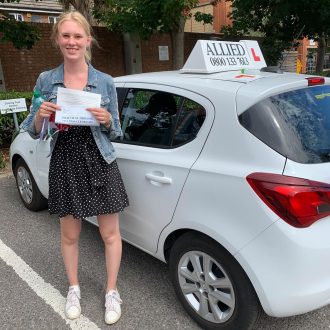 I took driving lessons with Inge until I passed the (first!) test last week. I liked my driving lessons a lot! Inge was a very good instructor and taught me a lot during our lessons. I gained more and more confidence during our lessons and finally managed to pass the test. I think I was very lucky to have such a good instructor!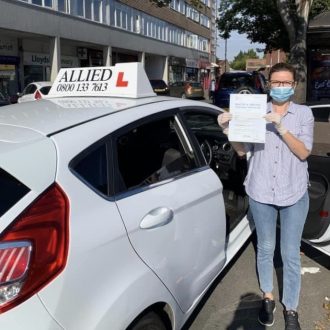 Just passed my exam from the first attempt. Olu is a brilliant driving instructor. He gave me so much confidence. I highly recommend Olu to anyone who wants to learn to drive.