Here's a selection of recent feedback from some of our students.

I can't reccomend Olu enough! He is truly an amazing driving instructor! I had absolutely no driving experience when I started and I was absolutely terrified! Less than 2 months later, I have passed my test and am a confident driver, and that's all down to this man! He was honest, funny and possibly one of the greatest teachers I've come across! Thank you Olu.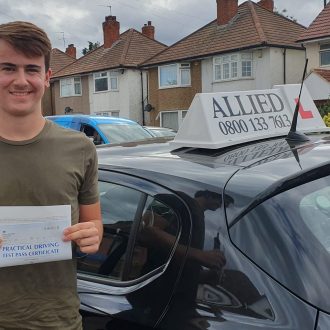 Rob was brilliant as an instructor, he was always clear with me and patient when I made mistakes. His advice helped me to passing both theory and practical tests first time, with 0 minors in the practical.
I came across Olu after going through few instructors and failed attempts. He shaped my driving and instilled my confidence back in less than two weeks and I passed first time. He genuinely cares about his students and unlike some others doesn't waste your time and money. He is patient, friendly, very disciplined and a wonderful person. I am so glad to know him and I will highly recommend him. I can't thank you enough Olu! THANK YOU!
I had Olu as my driving instructor and thought his attitude and patience were fundamental to our developing a practical and constructive relationship whilst I was learning to drive. He helped me to remove bad habits and replace them with good ones very quickly and his positivity made my experience very good. He was always punctual, professional and friendly and went out of his way to benefit my needs which is why I think the service and quality cannot be improved. In terms of the value, I also found this good as the great service and quality justified the money it cost in lessons to pass.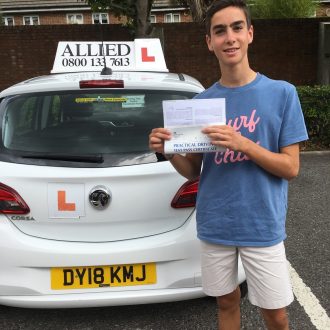 I can only recommend the Allied Driving School to future students wanting to learn to drive. My teacher Inge was especially dedicated and motivated each lesson towards making me a safer driver as well as preparing me for the driving test. Through the many mock tests and the positive feedback I felt prepared and at ease during my driving test. As a result I was able to successfully pass the first time. Thank you!
I had my test on Thursday and I passed 1st time. If you are looking for an excellent and professional driving instructor then you don't have to look around anywhere. ROB was my instructor. I had 52 lessons with him with no any private driving lessons (As every individual is different and different learning capabilities). Rob makes sure we learn driving in a safe way. He is always on time and uses an iPad to explain the driving lessons which was very helpful. Thank you so much Rob. I am very lucky to have you as my instructor. Definitely recommend him to my family and friends.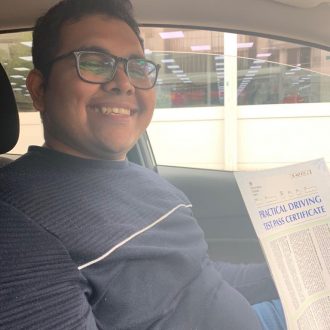 I learnt driving on a manual gearbox with Olu as my instructor.

Right off, one of the things I really liked about Olu was his ability to schedule our lessons early in the mornings so I could begin from home, finish the lesson and then head to work.

His method of instruction allowed me to drive like I was in control and make mistakes with the full trust that he had my back and our safety in mind. He was actively aware of the aspects of driving that were challenging me and encouraged me to approach them headfirst and overcome them. His knowledge of the general area of test routes was also quite positive and did work in my advantage – I know this might not be the same for everyone.

All in all, I was quite happy and had about a three month period from first lesson to passing my test, which I passed on my second attempt. Thank you Olu.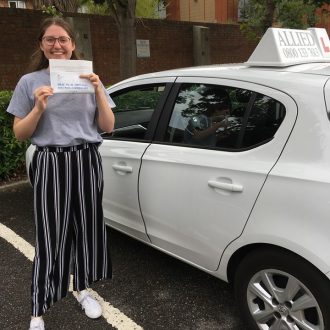 Due to the excellent teaching and support of Inge Paret I managed to pass my practical and theory tests both first time. She is clear when giving instructions and constructive criticism so that you can always finish a lesson feeling as those you have improved. Would definitely recommend her.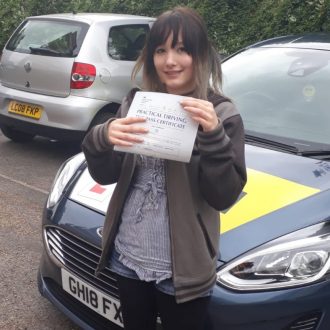 I had driving instructor Ricky he is a very calm and kind instructor making things easy to understand and always smiling! Highly recommend.
17 July 2019
Walton-on-Thames
Dear Olu Words can not explain how thankful I am to had you as my instructor. Thank you so much for the patience, hard work and professional tips and tricks.
Going through a very stressful phase of my life I never thought I will be able to drive or pass a test, but you gave me confidence, encouraged me and managed my stress in every single lesson. You went an extra mile and made me to be a good driver for life. I wouldn't have done it without your help.
You are a perfect, professional and kind instructor and I will highly recommend you for all. My husband will soon be your next student. God bless you Olu.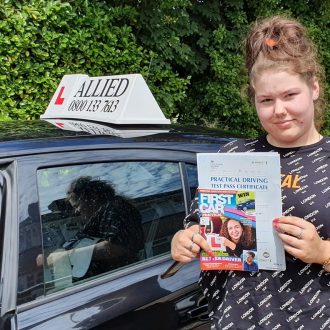 Rob was my instructor and was great, passed first time and was patient with me.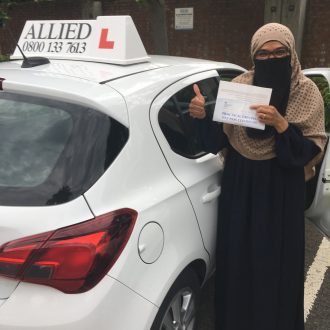 I cannot thank my instructor Inge enough. She helped me pass my driving test after having previous two failed attempts with someone else.
She is a very structured, professional and disciplined instructor. From day one she takes notes about the day like how it all went, objectives, goals and even weather. She works on every aspect of driving with safety as key priority as in future we will be driving our families around.
She does not make you feel bad instead motivates you to do good.
I really recommend her as chances of passing first time are more.
She is not only an excellent instructor but a very kind and loving character too.